If you would like to reconnect with us to discuss the work you do and how our program affected the achievement of your career goals, please complete this form.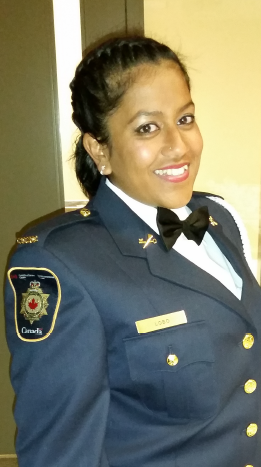 Present Job Title: Correctional Officer II / Primary  Worker
Present Employer: Correctional Services Canada
Degree Earned: Hons. Bachelor of Arts Cum Laude
The Year You Graduated: 2012
Tell prospective students a bit about the work you do? I am currently employed with Correctional Services Canada as a Correctional Officer II and Primary Worker. As such, my work takes place at a penitentiary that houses federally sentenced women. My job involves two sets of tasks which keeps things interesting. As a Correctional Officer II, I am responsible for security-related tasks that preserve the safety of the institution, its staff, and inmates. As a Primary Worker, my role expands into case management and correctional planning. Here, I work one-on-one with women on my caseload and with support staff to ensure that each woman's risks and needs are managed appropriately throughout the period of her incarceration. This is done via meetings, supervision plans, specific programming, health care support and much more.
Tell prospective students a bit about how your studies at York helped you to get where you are today.
After completing my Criminology degree at York University, I completed a Master of Arts degree, specializing in Conflict Studies at another university. I was particularly interested in studying gang-related violence and wrote my Master's thesis on the history, development and persistence of gang violence in El Salvador. Graduate school was one of the most intellectually challenging pursuits I had ever pushed myself to complete and it was only because of the high quality of education that I received at York University that I was able to do so. My ability to research effectively, think critically, be open to various perspectives, and defend my academic arguments concisely were some of the most important lessons I learned from my Criminology professors and carried over into my graduate studies. Today, as a Correctional Officer II and Primary worker, I see elements of my academic studies on a daily basis as I navigate through my job at the penitentiary. My studies in Criminology have deepened my understanding of crime and punishment, risk factors, and crime cycles. They have also allowed me to critically examine policies and procedures and their legal foundations. Finally, the concise and mature writing skills and public speaking that I developed through my studies and classes at York have helped me excelat my job. Report writing is crucial to case planning and being able to speak to, lead, and direct within the institutional setting is key.
What is the most important thing that you learned at university?
Critical Thinking. My courses at York, and particularly the ones in Criminology, taught me the value of, and more importantly how to think for myself and therefore draw knowledgeable and defensible conclusions based on evidence. With the kind of work I do, this has been an invaluable skill for me in terms of how I reason, investigate, and draw conclusions to make reasonable, moral, legal and ethically sound judgments when dealing with difficult situations. Critical thinking has also enabled me to examine the world around me with an open mind and questioning heart; it has taught me to learn from my surroundings and effectively become a better human being.
What advice do you have for current or potential students in this program?
The Criminology program at York University is an intellectually challenging program, but I say with confidence that this is a success- oriented program when and if you make the most of your experience. The beauty of the program is how broad the subject matter is: this means you have the ability to dabble in a little bit of everything, take what you learn and make it work FOR YOU! Use the room you have for electives to explore other interests. Ask questions and talk to your professors: they possess a wealth of information. Seize all opportunities to work, volunteer and network on campus: this will help you build your resume. Apply for scholarships and bursaries. Think outside the box: Interesting fact, I know a Criminology alumnus that now investigates tax fraud since accounting was also their forte. You can do this and York U will help guide you on your way!
Welcome Home!
Present Job Title: Behavioural Counselor
Present Employer: Correctional Service of Canada
Degree Earned: Bachelor of Arts (Honors) Criminology and Psychology
The Year You Graduated: 2015
Tell prospective students a bit about the work you do?
I work as a Behavioural Counselor at a Federal women's maximum and medium correctional facility in Kitchener, Ontario. As a Behavioural Counsellor I work as part of an interdisciplinary team to establish, promote, and maintain a treatment supportive environment. I facilitate the Anger Management and Dialectical Behaviour Therapy group treatment programs, and provide one on one crisis intervention and outreach counselling to all the women. On most occasions, my day is spent in the living units with the offenders, teaching them life skills such as cooking, stress management, healthy eating, hygiene, effective communication and problem solving.
Each week I participate in Case Management meetings for both the medium and maximum populations with each department (Parole, Healthcare, Correctional Officers, Management, Psychology, Elders, Aboriginal Liaison Officers), where we review and edit treatment plans for complex cases and policy, as well as share pertinent information for the efficient and effective management of the entire facility.
As a Behavioural Counsellor I am a support system for the women and therefore I get the opportunity to engage in the prison activities, such as Aboriginal Awareness Day, Christmas, Family Day, yoga, intramurals and concerts.
Tell prospective students a bit about how your studies at York helped you to get where you are today.
I am so grateful to have been given the opportunity to work with such incredible mentors within the Criminology program at York University. The Criminology professors not only delivered the mandatory theoretical frameworks within the field of Criminal Justice, but also went out of their way to create assignments that helped me relate these theories and principles to the modern day. This is a skill I use on a daily basis when reviewing policy for specific programs within the prison. It is crucial to tie your ideas and policy suggestions back to theory.
The Criminology program also allowed me to obtain my first job within the Federal Government of Canada in my third year. I applied online to the Federal Student Work Experience Program (FSWEP) with the Canada Border Services Agency (CBSA), and was given a full-time summer job with CBSA for my third and fourth years of school. This opportunity resulted in the agency awarding me full-time employment upon graduation, and ideally led to my position today with Federal Corrections.
I would highly recommend any university student apply to the FSWEP summer student program as the opportunities for Criminology majors in the Federal Government all over Canada are endless.
What is your fondest/clearest memory of studying at York?
My fondest memory of studying at York is from my final year seminar class ("Representing Crime") with Professor Lam. I remember running around downtown Toronto analyzing statues outside of the Toronto Police Headquarters with some of my closest friends in the program. Not only was it an exciting field trip, but it was such a creative way of making us aware of how crime and crime prevention policy are represented in our daily lives. This memory really stands out because it was the first time we were able to take our knowledge from the lectures of the past three years outside of the classroom, and work together as an intimate group to apply our understanding of the material. It was also a great way to bond with classmates I had only spoken to briefly in larger lectures.
What advice do you have for current or potential students in this program?
The advice I would give Criminology students is to embrace any opportunity to apply your knowledge outside of the classroom. Upon graduation, companies/organizations are certainly looking to ensure you have the theoretical knowledge from your degree, but what makes you stand out is how you've taken what you've learned and applied it outside of the classroom, whether it is through social justice clubs at York, summer internships, travelling abroad, or volunteering.
Don't be afraid to get involved because it will only make your experience at York that much more rewarding!

Present Job Title: Policy Advisor
Present Employer: Ontario Public Service
Degree Earned: Honours BA, Criminology & Not for Profit Business Certificate
The Year You Graduated: 2005
Tell prospective students a bit about the work you do?
I work for the Ministry of Seniors Affairs as a Policy Advisor where I work on a variety of different files.
Tell prospective students a bit about how your studies at York helped you to get where you are today.
My studies at York helped me immensely in my current Policy Advisor position which heavily focuses on critical thinking, writing, research, and policy analysis. My academic career at York helped provide me with a strong skill set, sense of self, and theoretical knowledge of research and policy that I've been able to apply in my current work.
What is your fondest/clearest memory of studying at York?
My fondest memory was the fourth year honours criminology courses that I took in policing, which led to many thought provoking discussions. I was also involved in a number of student associations which enabled me to broaden my social networks and meet students from all walks of life.
What is the most important thing that you learned at university?
The most important thing I learned at York is to work hard, balance priorities, and also make time for the things or people in your life that you love.
What advice do you have for current or potential students in this program?
Work hard and network with as many students, associations and Professors as you can. Get involved in student life, make an effort to maintain friendships, and keep in touch with your professors.
Present Job Title: Master's Student in Socio-Legal Studies
Degree Earned: Criminology Honors
The Year You Graduated: 2016

Tell prospective students a bit about the work you do?
I am currently finishing my Master's degree in Socio-Legal Studies at York University, and will be starting law school in the coming fall of 2017. My Master's research examines racial profiling practices that impact Muslim identity in Canada. Using cases from the Ontario Human Rights Commission and crime stop data from the Ottawa Police, I consider whether racial profiling has a gendered element, and whether it is as prevalently directed towards Muslim women as it has been for Muslim men. Outside of my studies, I am the Director for the Knowledge for Life Program with an NGO called Humanity First Canada. I am responsible for initiating programs in particular under-developed countries that aim to provide opportunities for children to learn and adults to gain skills they can use in their jobs. I am also a professional entrepreneur magician performing at events throughout the GTA.
Tell prospective students a bit about how your studies at York helped you to get where you are today.
My Honours degree in Criminology, more than anything, has given me the ability to be very critical. When looking at a world issue, representations/depictions in media, or language used in informal conversations, I am able to use my critical skills to further understand the meanings, implications, and motivations behind a certain framing. This has greatly helped me in my Master's work where I am conducting original research. Furthermore, in my magic business, time management and critical writing skills have proven to be very useful in creating contracts, organising my schedule, and planning ahead so that when busy season hits, I'm not scrambling to get things in order (which was a skill I learned over the years!).
What is your fondest/clearest memory of studying at York?
There are many memories that I have had studying criminology at York! Of them, one that stands out is from my fourth year "Representing Crime" seminar. In this course, students examined representations from popular crime television shows and films, and dissected their meanings. Learning what shows and films were implicitly communicating to their audiences was amazing!
What is the most important thing that you learned at university?
Half of the learning in the classroom doesn't happen from the teacher (although the instructor is also very important!), but from fellow classmates. Doing group projects and engaging with fellow peers in tutorials was an amazing way through which I was able to broaden my understanding of topics by hearing the various perspectives held by other people. This is something that has enabled me to continue growing as a person. In everyday life, I now take the time to talk to people and to learn their perspectives.
What advice do you have for current students?
Don't be afraid. University can be a big place and can be daunting. It was for me in the beginning as well. Take the opportunity to meet your TAs and Professors during office hours when you need help or just go talk to them about your future plans. They are there for you and you should utilise their help. I was able to get through my undergraduate studies successfully because of the valuable tips I received from my TAs and Professors. Also, join student clubs to become an active member of the York University community. That will make being at the institution that much more meaningful!
Present Job Title: Law School Graduate
Degree Earned: B.A. (Criminology), J.D. Candidate
The Year You Graduated: 2014
Tell prospective students a bit about how your studies at York helped you to get where you are today.
I am deeply grateful for the insightful guidance provided by a number of my former criminology professors. The criminology professors were willing to share their experiences as graduate students and the thought processes that had informed their decisions. A number of my professors encouraged me to pursue graduate studies and introduced me to former students who were in graduate programs. As well, my professors provided me with critical moral support during uncertain times of my academic career.
What is your fondest/clearest memory of studying at York?
York University has many interesting student organizations. Students need to put in effort to further cultivate their interests, whether they are academic or non-academic. I was involved in student organizations since my first year of undergraduate studies. I found students with similar interests in both the Law and Society Undergraduate Student Association and the Criminology Society. With other club members, we griped about assignments, deadlines, courses, and graduation requirements. Having a group of accessible close friends at York helped put my academic career in perspective. The student space provided to various student organizations permitted us to leave our baggage behind during classes and securely store our valuables.
What is the most important thing that you learned at university?
Short answer: making use of my commute time!
I did a portion of my assigned readings while on moving TTC buses and subways. During my undergraduate studies, I spent an average of three hours on the TTC every day. As a result, I developed a habit of reading on the TTC. Although I could not take notes on a moving platform, I outlined important paragraphs in my books and course kits. I also thought about and planned how I would approach my assignments on the TTC. My reading habit on the TTC made efficient use of my otherwise "dead" commute time. A word of caution: this habit is not conducive to healthy eyesight!
What advice do you have for current or potential students in this program?
Diversify your life experience! Don't get stuck in the bland routine - going to school to learn and coming home to study. Join some social organizations outside of school, volunteer for charities, and participate in student organizations. If you are working part-time right now, think about working for different employers in different fields to gain different kinds of work experiences. All the extracurricular experience accumulated during your undergraduate studies will help you in future job interviews. Moreover, involvement in different social organizations will help expand your social network and allow you to network with new people.
I will also share some tips for those interested in graduate school. During the summer months of your undergraduate studies, research different career options available to you. Applying to graduate schools takes a lot of preparation and time. Don't make a last-minute decision and then scramble to throw everything together. Pace yourself and give yourself a little bit of a cushion to prepare for the unexpected.
Also, it is never a bad idea to study academic subjects during the summer on your own. Some crucial life skills are sadly not taught in school. They are nevertheless important in life. For example, take some time to become financially literate. Seize every opportunity you can to study economics, personal investment options, and wealth management. The economy affects all of us. Having some understanding about economics and finances will go a long way to shield your future assets from cyclical economic upheavals.